Product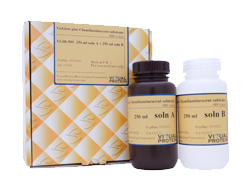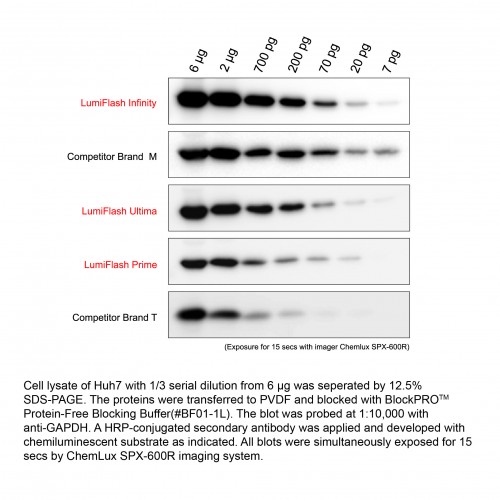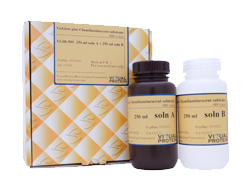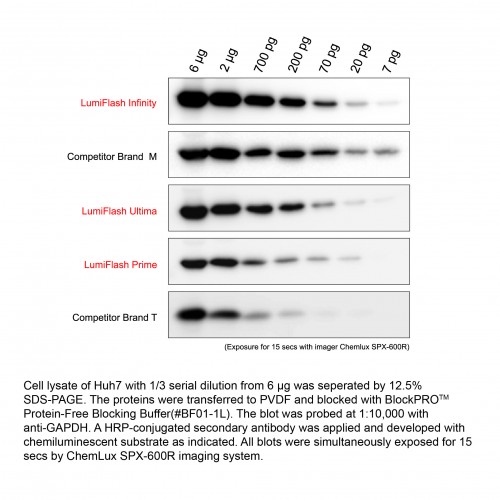 Western Blotting
LumiFlash™ Ultima Chemiluminescent Substrate, HRP System
High signal sensitivity and long signal duration for chemiluminescent.

LumiFlash™ Ultima Chemiluminescent Substrate, HRP is an advanced ECL product in terms of efficacy and sensitivity for chemiluminescent detection of immobilized proteins (Western blotting and ELISA). LumiFlash™ Ultima Chemiluminescent Substrate, HRP provides high sensitivity and long signal duration in Western blotting application. It needs very short exposure time to the X-ray film or other documentation systems, and can get low background and high signal with clear image. LumiFlash™ Ultima Chemiluminescent Substrate, HRP is the perfect choice for most Western blotting application.
Product information
Highlights:
High signal sensitivity – detection of target protein at low-picogram level on WB and ELISA application
Antibody saving – diluted lower antibody concentration for WB and ELISA application
Long duration – provide stable signal for long exposure
Economy – cost less than other ECL substrate with similar sensitivity level
Order Information:
| | | |
| --- | --- | --- |
| Cat. No. | Product Name | Description |
| LF08-500 | LumiFlash™ Ultima Chemiluminescent Substrate, HRP System | 250mL soultion A + 250mL solution B |
Product Detail: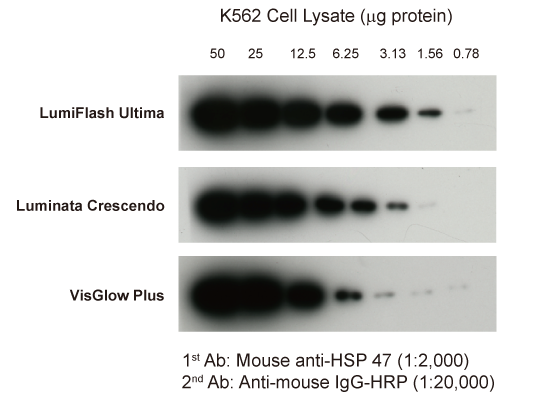 Figure 1. The comparison of WB application for LumiFlash Ultima, VisGlow Plus, and Luminata Crescendo.
K562 cell lysate with 1/2 serial dilution from 50 µg was separated by 12.5% SDS-PAGE and probed by anti-HSP 47. All results were exposed to X-ray film for 3 minutes.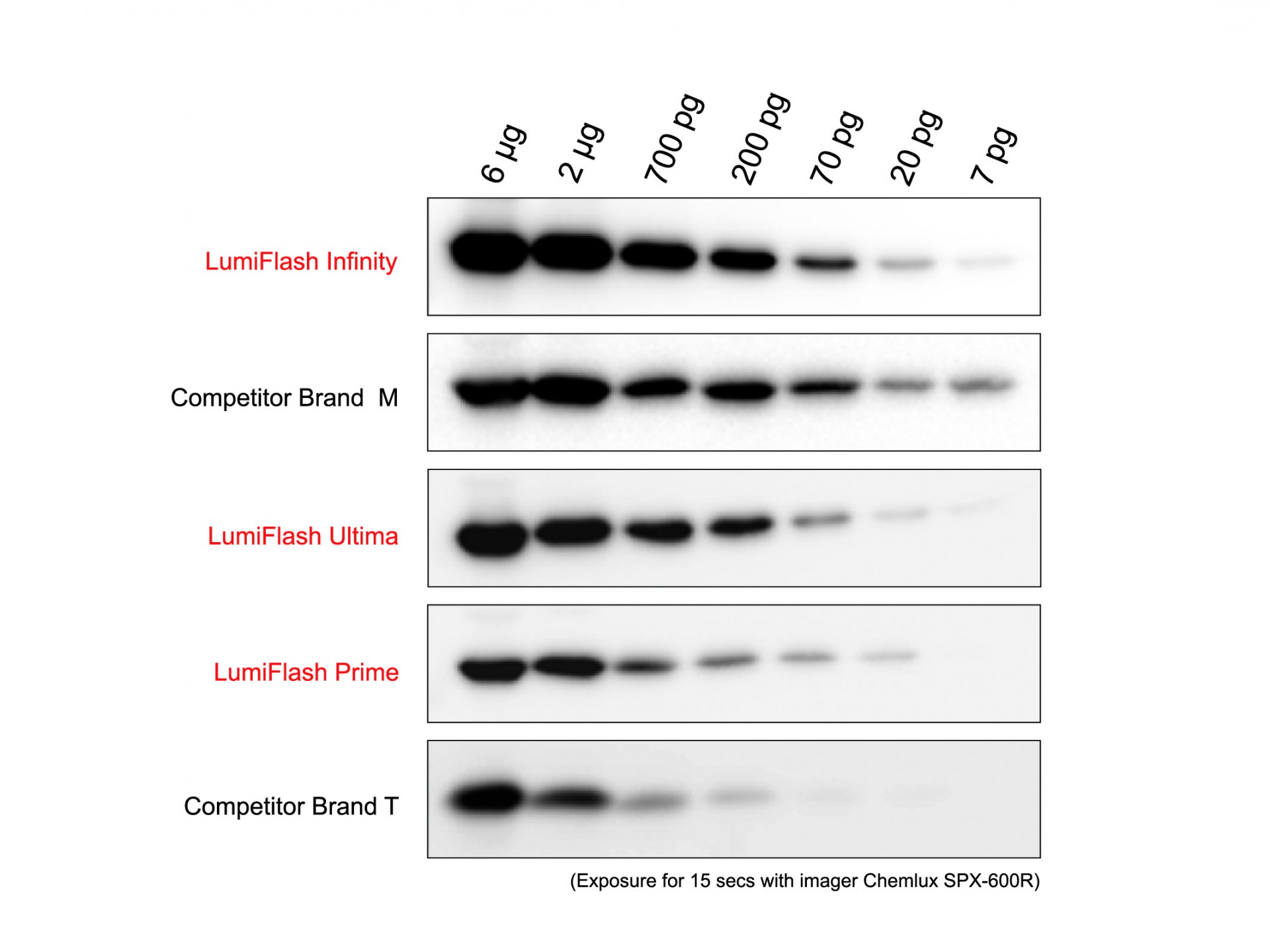 Figure 2. The comparison of LumiFlash Prime, LumiFlash Ultima, LumiFlash Infinity, and competitors.
Cell lysate of Huh7 with 1/3 serial dilution from 6 µg was separated by 12.5% SDS-PAGE. The proteins were transferred to PVDF and blocked with BlockPRO™ Protein-Free Blocking Buffer(#BF01-1L). The blot was probed at 1:10,000 with anti-GAPDH. HRP-conjugated secondary antibody was applied and developed with a chemiluminescent substrate as indicated. All blots were simultaneously exposed for 15 secs by the ChemLux SPX-600R imaging system.
LumiFlash™ Series: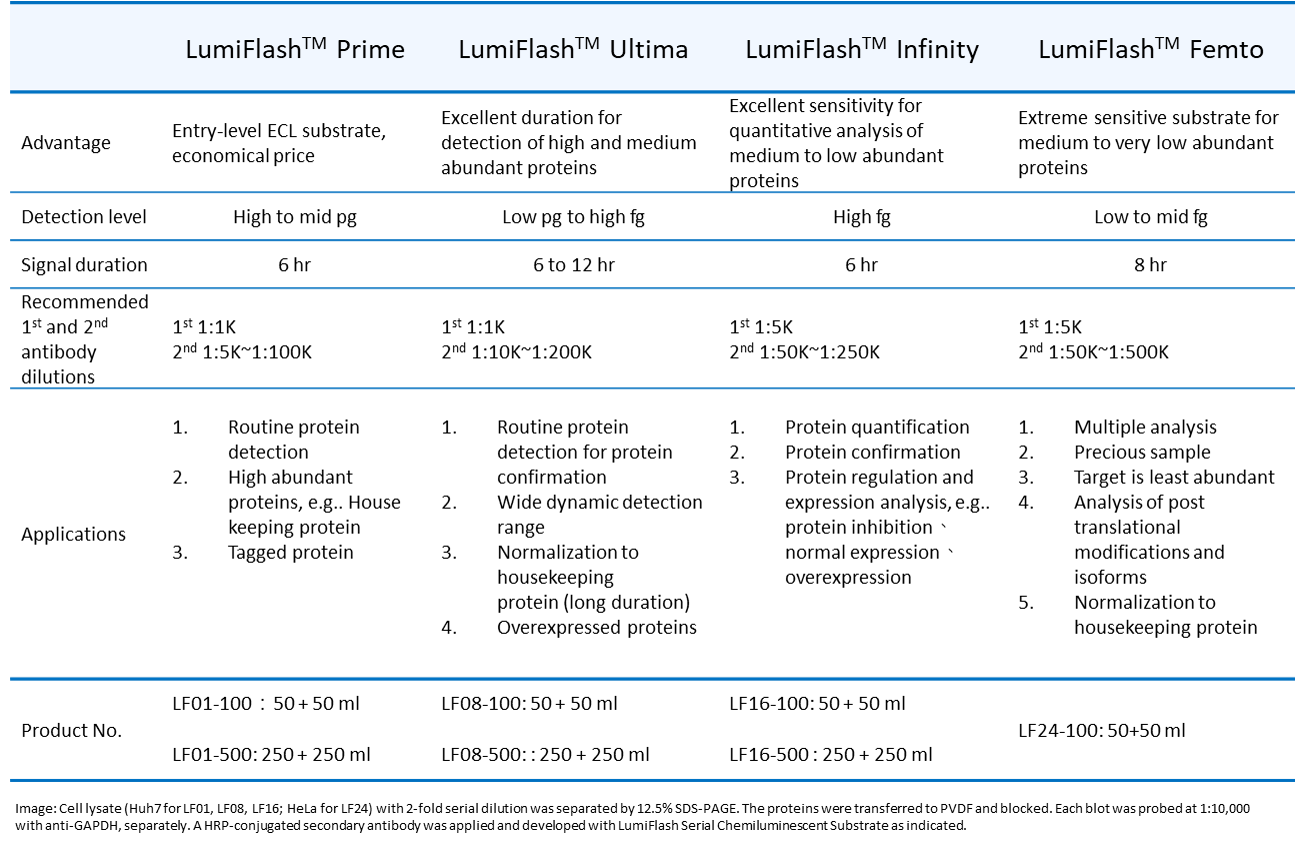 Reference:
1. Kim, Yunho, et al. "Methylation-dependent regulation of HIF-1α stability restricts retinal and tumour angiogenesis." Nature communications 7 (2016): 10347.
2. Lim, Chae-Seok, et al. "PKCα-mediated phosphorylation of LSD1 is required for presynaptic plasticity and hippocampal learning and memory." Scientific reports 7.1 (2017): 1-15.
3. Lee, I-Ta, et al. "Protective mechanisms of resveratrol derivatives against TNF-α-induced inflammatory responses in rat mesangial cells." Cytokine 113 (2019): 380-392.
4. Cho, Min Young, et al. "Induction of DEAD Box helicase 5 in early adipogenesis is regulated by Ten-eleven translocation 2." Biochimica et Biophysica Acta (BBA)-Molecular and Cell Biology of Lipids (2020): 158684.