Product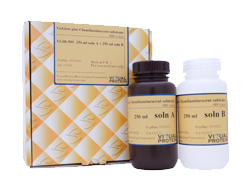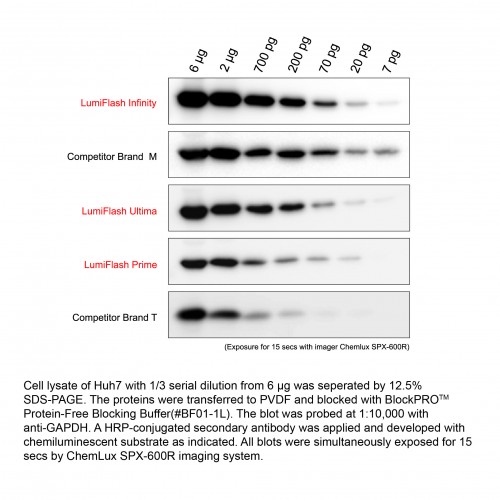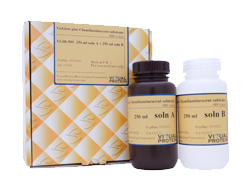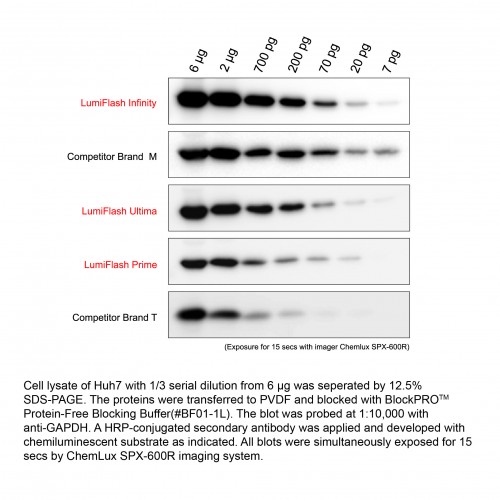 Western Blotting
LumiFlash™ Ultima Chemiluminescent Substrate, HRP System
High signal sensitivity and long signal duration for chemiluminescent.

LumiFlash™ Ultima Chemiluminescent Substrate, HRP is an advanced ECL product in terms of efficacy and sensitivity for chemiluminescent detection of immobilized proteins in Western blotting. LumiFlash™ Ultima Chemiluminescent Substrate, HRP provides high sensitivity and long signal duration in Western blotting application. It needs very short exposure time to the X-ray film or other documentation systems, and can get low background and high signal with clear image. LumiFlash™ Ultima Chemiluminescent Substrate, HRP is the perfect choice for most Western blotting application.
Product information
Highlights:
High signal sensitivity – detection of target protein at low-picogram level on WB
Antibody saving – diluted lower antibody concentration for WB
Long duration – provide stable signal for long exposure
Economy – cost less than other ECL substrate with similar sensitivity level
Order Information:
| | | |
| --- | --- | --- |
| Cat. No. | Product Name | Description |
| LF08-500 | LumiFlash™ Ultima Chemiluminescent Substrate, HRP System | 250mL soultion A + 250mL solution B |
Product Detail: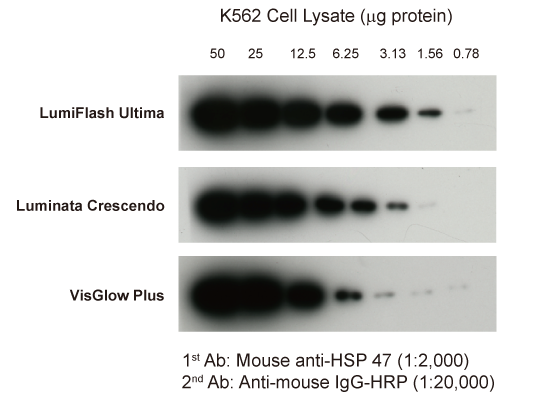 Figure 1. The comparison of WB application for LumiFlash Ultima, VisGlow Plus, and Luminata Crescendo.
K562 cell lysate with 1/2 serial dilution from 50 µg was separated by 12.5% SDS-PAGE and probed by anti-HSP 47. All results were exposed to X-ray film for 3 minutes.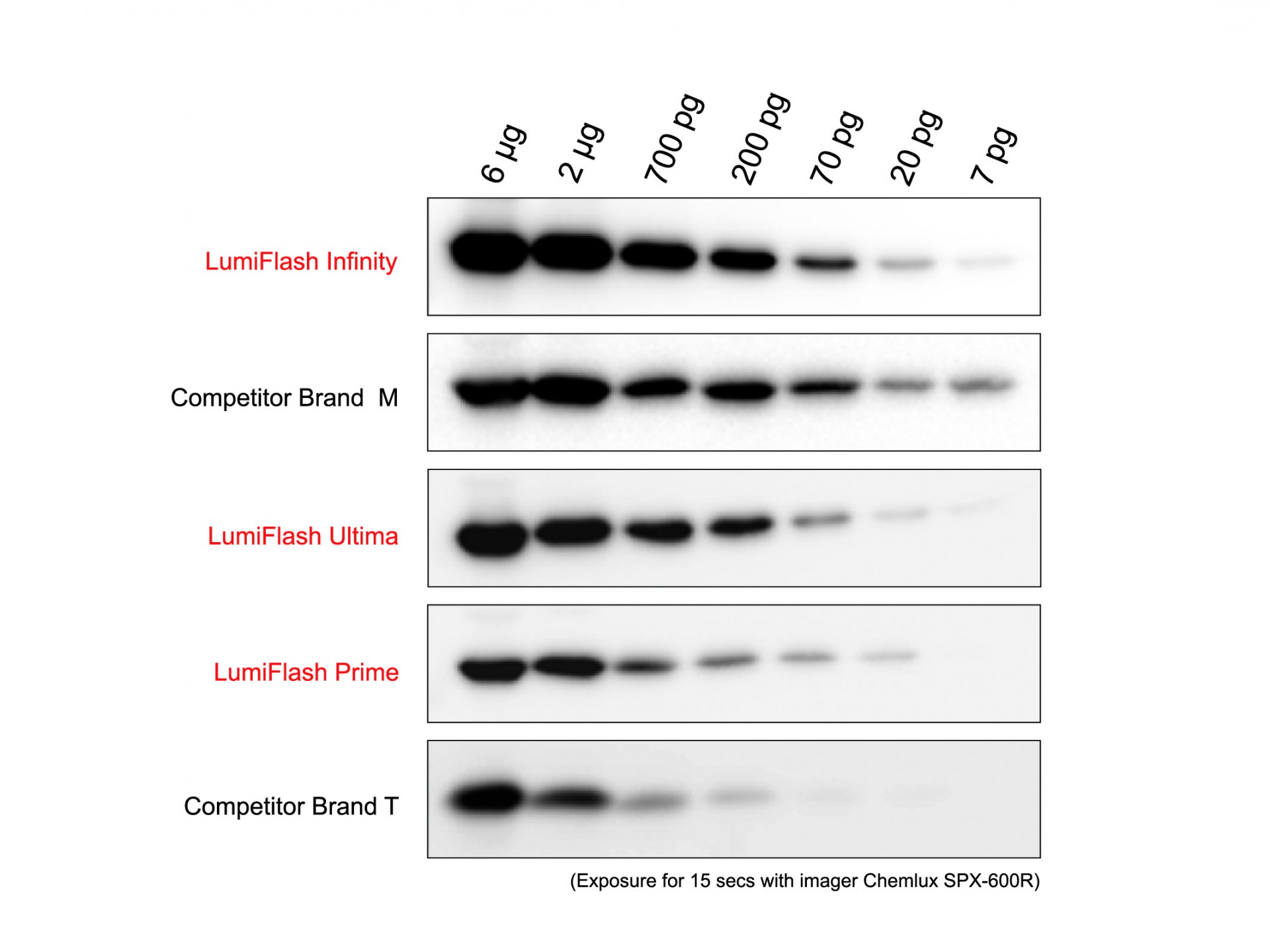 Figure 2. The comparison of LumiFlash Prime, LumiFlash Ultima, LumiFlash Infinity, and competitors.
Cell lysate of Huh7 with 1/3 serial dilution from 6 µg was separated by 12.5% SDS-PAGE. The proteins were transferred to PVDF and blocked with BlockPRO™ Protein-Free Blocking Buffer(#BF01-1L). The blot was probed at 1:10,000 with anti-GAPDH. HRP-conjugated secondary antibody was applied and developed with a chemiluminescent substrate as indicated. All blots were simultaneously exposed for 15 secs by the ChemLux SPX-600R imaging system.
LumiFlash™ Series: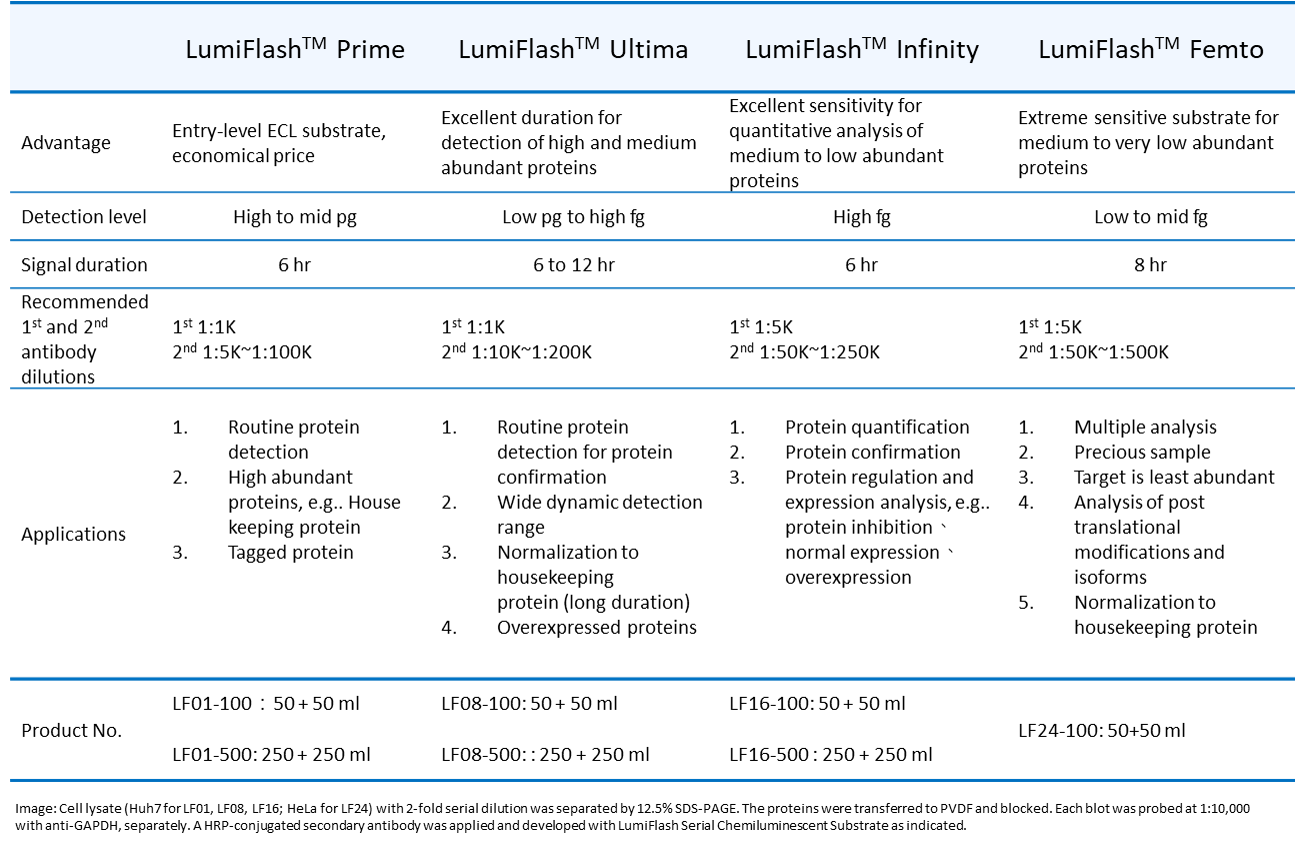 Reference:
1. Kim, Yunho, et al. "Methylation-dependent regulation of HIF-1α stability restricts retinal and tumour angiogenesis." Nature communications 7 (2016): 10347.
2. Lim, Chae-Seok, et al. "PKCα-mediated phosphorylation of LSD1 is required for presynaptic plasticity and hippocampal learning and memory." Scientific reports 7.1 (2017): 1-15.
3. Lee, I-Ta, et al. "Protective mechanisms of resveratrol derivatives against TNF-α-induced inflammatory responses in rat mesangial cells." Cytokine 113 (2019): 380-392.
4. Cho, Min Young, et al. "Induction of DEAD Box helicase 5 in early adipogenesis is regulated by Ten-eleven translocation 2." Biochimica et Biophysica Acta (BBA)-Molecular and Cell Biology of Lipids (2020): 158684.
5. Jeong, Gi Uk, et al. "A recombinant human immunoglobulin with coherent avidity to hepatitis B virus surface antigens of various viral genotypes and clinical mutants." PloS one 15.8 (2020): e0236704.
6. Cheng, Ching-Yi, et al. "1, 4-Disubstituted 1H-1, 2, 3-Triazoles for Renal Diseases: Studies of Viability, Anti-Inflammatory, and Antioxidant Activities." International Journal of Molecular Sciences 21.11 (2020): 3823.
7. Kim, Eunju, et al. "Leucrose, a natural sucrose isomer, suppresses dextran sulfate sodium (DSS)-induced colitis in mice by regulating macrophage polarization via JAK1/STAT6 signaling." Journal of Functional Foods 74 (2020): 104156
8. KIM, Min Kyoon, et al. Effects of Steady Low-Intensity Exercise on High-Fat Diet Stimulated Breast Cancer Progression Via the Alteration of Macrophage Polarization. Integrative Cancer Therapies, 2020, 19: 1534735420949678.
9. Chen, H., M. Ko, and H. Chan. "Effects of hyperglycemia on the TGF-β pathway in trabecular meshwork cells." (2021).
10. Tang, Kuo-Tung, et al. "Kurarinone Attenuates Collagen-Induced Arthritis in Mice by Inhibiting Th1/Th17 Cell Responses and Oxidative Stress." International journal of molecular sciences 22.8 (2021): 4002.
11. Pan, Chun-Hsu, et al. "Pathological Role of Phosphoglycerate Kinase 1 in Balloon Angioplasty-Induced Neointima Formation." International Journal of Molecular Sciences 22.16 (2021): 8822.
12. Kwon, Soon Young, et al. "β2‑adrenergic receptor expression and the effects of norepinephrine and propranolol on various head and neck cancer subtypes." Oncology Letters 22.5 (2021): 1-8.
13. Chang, Kai-Wei, et al. "Atractylodin Suppresses TGF-β-Mediated Epithelial-Mesenchymal Transition in Alveolar Epithelial Cells and Attenuates Bleomycin-Induced Pulmonary Fibrosis in Mice." International journal of molecular sciences 22.20 (2021): 11152.
14. Lu, I-Ta, et al. "(−)-Agelasidine A Induces Endoplasmic Reticulum Stress-Dependent Apoptosis in Human Hepatocellular Carcinoma." Marine Drugs 20.2 (2022): 109.